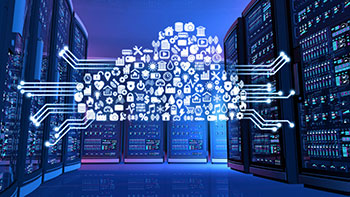 Today, every business wants to operate from the cloud. And why wouldn't they? It's the fastest way to save time and money, while making business operations more efficient than ever. The trick is in choosing the right cloud hosting services for your business.
Our private, public or hybrid cloud hosting solutions are customized to your business, whether you're looking to maintain or upgrade your IT environment, work in one location or many, and with regard for any compliance requirements you have. By leveraging the cloud, you can reduce the costs of new infrastructure, paying less for new software and employee training, all while enjoying top performance technology.
Private Cloud
Ostari's private cloud solution brings together industry-leading technology and premier managed service expertise to deliver infrastructure capable of powering the most complex applications while achieving rigorous compliance requirements including HIPAA, PCI, and SSAE-16. We build to scale, so you'll have maximum flexibility, high security and hit the ground running.
Public Cloud
Public Cloud allows for Infrastructure-as-a-Service (IaaS) technologies to be coupled with a managed hosted experience. If your goal is high performance and strong uptime, public cloud can improve your use of deployed resources while doing this and much more.
Hybrid Cloud
For a number of organizations, the best solution is a hybrid between Public and Private Cloud technologies. A Hybrid Cloud solution allows for sensitive data and highly proprietary information to be protected in your Private Cloud while web and application servers leverage the flexibility and scalability of our public cloud.
Compliant Cloud Systems
Many of our clients want to upgrade to a cloud environment, but need to maintain compliance of a high degree. We'll help you find an infrastructure solution for even the most complex system requirement, including HIPAA, PCI, and SSAE-16 compliance.